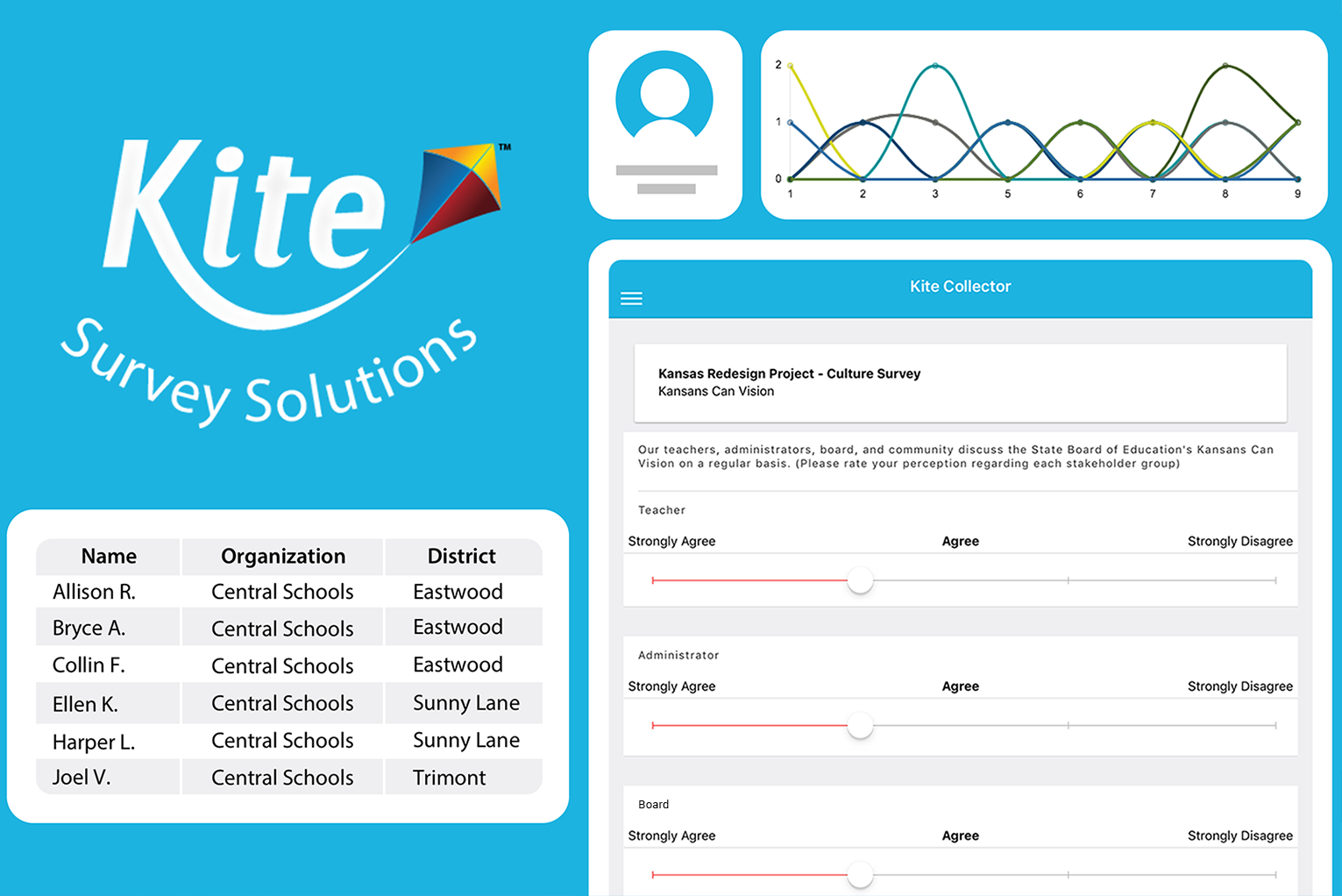 Kite Survey Solutions
Build custom online surveys, conduct observations, and collect data and responses with the Kite Survey Solutions product suite. Use the Survey Solutions web tool to create, assign, and track surveys across your entire organization and see the results instantly! A wide variety of question types are available, including ability for administrators to embed videos, PowerPoints, PDFs, and external links in their survey. Download the Kite Collector mobile app or access the web version to complete teacher surveys, student observations, classroom environment questionnaires, and more. Distribute secure surveys by creating user accounts that require a login or send out an open link to collect anonymous responses.
Mobile Tools for Field Observation
The Kite Collector mobile app for iOS or Android devices allows administrators to record data and observations on participants anywhere and any time using a portable device. No internet connection? No problem! Complete your observations offline and upload them when you reconnect to the internet.


Educator Portal Integration
Kite Survey Solutions is integrated with Educator Portal (EP) so that administrators can build surveys and assign them directly to the organization's EP user population. Surveys can then be appropriately assigned and managed by the user within EP.
All the Tools You Need to Build Custom Surveys

Timed Observation Surveys
Ensure your observations produce valid results by limiting the observation time to a predetermined amount.

Question Banks
Select from a Master Bank of over 250 pre-built survey questions in four categories: School Climate Surveys, Social & Emotional Growth Surveys, Parent Feedback, Teacher and Staff Feedback.

Anonymous Surveys
Declare a survey as anonymous and distribute through a link or a QR code that does not require a login.
Use Survey Solutions for your next observation
No time for old school paper-pencil data collection methods? Kite Collector provides the platform to record data and observations using a computer, smartphone, or tablet. Watch the video below to learn more about Kite's timed observation feature.
Timed Observation from AAI Media on Vimeo.
Kite Collector in Action
Watch the video to see a few question types in use and to learn more about how the Kite Survey Solutions product suite can help your organization!