Kite Suite's new and upcoming features

A student's entire history of Kite assessment score reports is now available for parents to view online with Kite's newest feature, Parent Portal!
Here's how it works:
Schools upload parent email addresses to connect parents with their child's scores.
Parents log in to the secure Parent Portal website using a temporary access code (no need to worry about passwords or other login credentials!)
Within Parent Portal, parents can view, download, and print all available Kite assessment score reports.
For more details and information on Parent Portal, visit the Assessments page.
Content Portal – Coming Fall 2021
Kite Content Portal, our new and improved content building and management application, seamlessly integrates Kite's Editor application, making the creation tests and test items easy and efficient. Here are a few of the key feature upgrades we're working on:
Upload media (graphic, audio, video, pdf) to integrate into your test items
Individualize technology-enhanced test items to accurately reflect your content
Choose from over 50 different item types to accurately assess your content
Manage the item and test creation processes directly within the app using Workflow
Import and export your test items using QTI
As always, the ATS team continues to work with our clients to add features and tailor the program to better meet their needs. For now, here's a sneak peek of some of the new Content Portal features and updated layout.
In partnership with Accessible Teaching, Learning, Assessment Systems (ATLAS), a center within the Achievement & Assessment Institute (AAI) at the University of Kansas, ATS is developing an interactive online dashboard to deliver individualized student instructional resources and educator tools that promote student progress toward grade-level expectations. The dashboard, officially referred to as Kite Navigator, serves as an online structure for implementing the Shared Writing Instructional Model (SWIM) instructional cycle, which leverages learning maps and map-related resources to support teaching and learning.
Educators will have the ability to track student progress through an instructional cycle. As shown in the preview below, users can control their view to show the student's current target level details or display the cycles that make up the entire learning map neighborhood.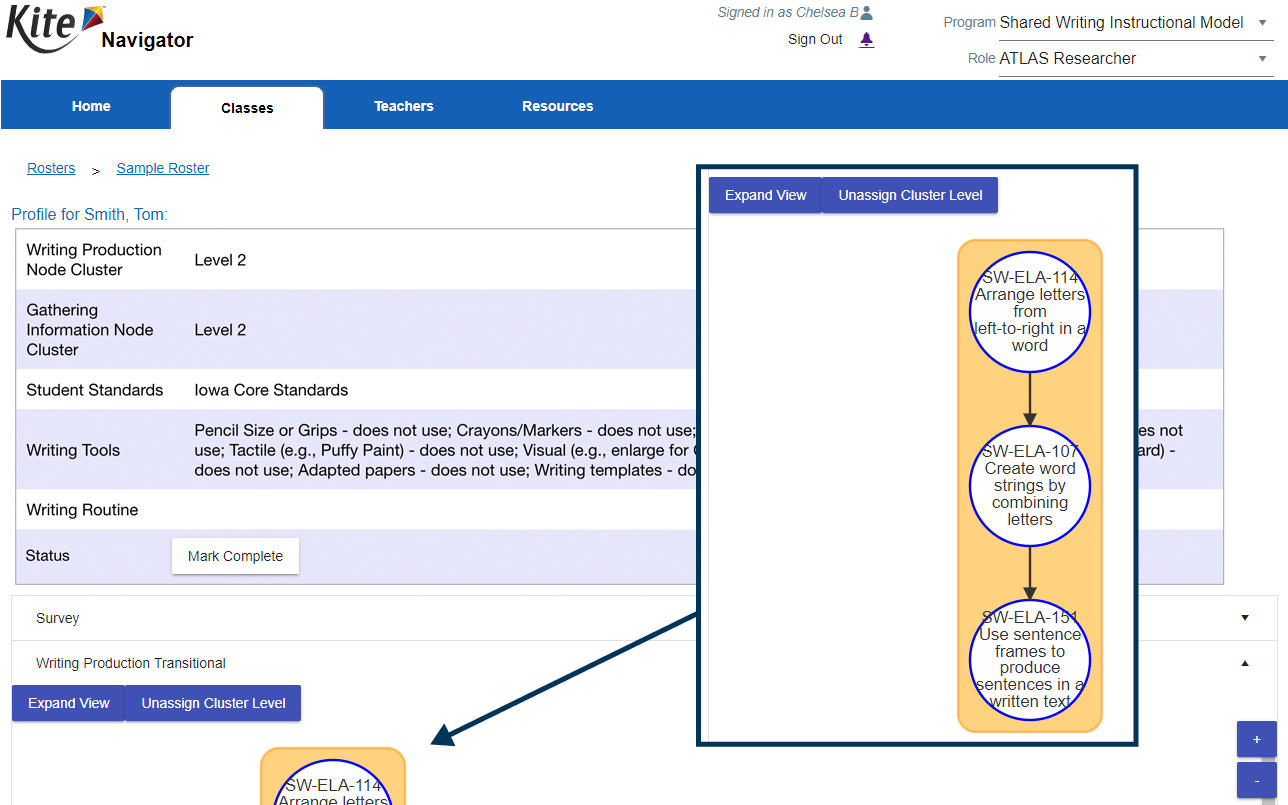 For more information on the SWIM project, visit the ATLAS SWIM website.
Kite Learning Maps – New Look for 2021
Building on previous work by AAI Director Neal Kingston and the team at ATLAS, ATS is overhauling the Kite Learning Maps interface to support further expansion of learning map integration across the Kite Suite of applications. Within the updated interface, users will be able to:
create new map projects, including nodes and connections,
add resources such as research-based documents to provide context to the nodes and connections,
work within the larger learning map network or define map neighborhoods,
publish and integrate projects, and
work across applications in the Kite Suite.
Take a look at a sample Learning Maps screen below and contact us today to learn more about the project.
Learn more about the Kite Suite
Explore all that the Kite Suite can do or contact us with any questions about current or upcoming features.
Kite Suite Products
Assessment building, content integration, data collection, and more.
Contact Us
Call or email us with your questions about Kite Suite.
Swipe to see more